Orsan Sewing Machine- Armstrong Sewing Machine - Ahmedabad
Saturday, 30 September 2017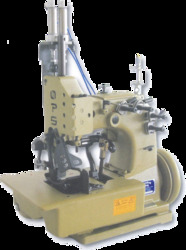 Contacts

Sanjay Shah
Item description
Description -

The 4000 series machine are designed for Big Bag producers to sew overlock and safety stitches simultaneously. They possess superior characteristich as well as important modifications to sew today's more difficult Big Bags more efficiently compared to similar machines.

Application -

• WITH TOP AND BOTTOM FILLER CORD FEEDS, DEVELOPED FOR BIG BAG (FIBC) PROFUCERS
• DOUBLE TRANSPORT FROM ABOVE AND BELOW
• TO BE USED FOR SEWING HEAVY BIG BAGS

Technical Parameters

Feeding of filler cord from above and below. Low spare part consumption. Heat cutting can be mounted if desired.


TECHNICAL SPECIFICITIONS -

Maximum speed - 1400 rpm

Needle(S) - Two needles

Standard Needle - 9853 GA 430 / 172

Threads - Four threads

Stitch spacin: - 6- 13 mm.

Space between two needles - 5 mm.

Overlock stitch width between - 10 mm. and 17 mm.

Maximum stitch height - 22 mm.


ARMSTRONG formerly known as STITCHMAN incorporated in 1982. ARMSTRONG is a leading supplier of Machineries & Spare Parts for HDPE / PP Woven Sack Fabric industry and is an undoubted leader amongst other manufacturers of this industry. ARMSTRONG is now a world renowned brand and is Engaged since 1982 for providing the best quality of sewing machines, printing machines, needle looms, bale press machines etc. For HDPE / PP Woven small & Big (FIBC's) Bags in India as well as globally.