Website Design & Development Company in Ahmedabad - Ahmedabad
Wednesday, 31 May 2017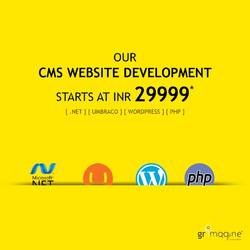 Contacts

Pritesh Patel

07940054643
Item description
Do you require a website or looking for Web Development Company in Ahmedabad to do online sales or promote your services ? Then we at GR Imagine have the ideal web development solution to meet your need in an affordable manner.



At GR Imagine, We will build you a strong online crowd for your business by Developing a professional website Design. which best suits your needs and target audience.We have been providing affordable web design and development services to thousands of clients for over a decade.



We make it possible for businesses to move their sales & marketing activities to the internet through our web development services. We offer top-quality professional best web designs and web development services at globally affordable prices.


Why to Choose GR Imagine for Website Development ?


•Our web developers have the expertise and experience to take care your web development needs.
•Our creative service in web development support your growth
•We develop platform that are agile and adaptive.
•Our services are available at very affordable rates.


We are glad to offer you the most comprehensive professional and affordable Web Design Ahmedabad based Services that fulfill all your business requirements. If you need any web design and web development solutions, please contact us today!