Web Development Company in Ahmedabad - Ahmedabad
Wednesday, 5 July 2017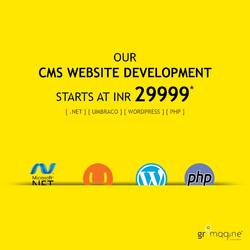 Contacts

Narendra Pindoria

07940054643
Item description
GR Imagine is an one of the most reputed Web Development Company Ahmedabad based has successfully completed more than 800+ website design projects in Ahmedabad and across globe. Our well experienced web designers will take your business into next level with creative website design service in Ahmedabad. We don't just design websites. We give your users an experience. We design & develop fast-loading, responsive websites tailored to your business needs. We offers a complete set of web design services which includes graphic design, logo design, brochure design Services. We are the experts in Digital Marketing, Advertising, Campaigns and Interactive Mobile App Solutions.

Web Design Services We Offer

•Small Business Website Design
•Custom Web Design
•Responsive Web Design
•E commerce Web Design

If you need any web design and web development solutions, please contact us today!