Study and Work in British Columbia, Canada - Ahmedabad
Wednesday, 8 August 2012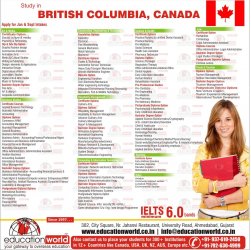 Contacts

Jahanvi Choksi
Item description
Canada

•Affordable Tuition fees with low cost of living
•Rated as one of the safest countries in the world by the UN; known world-wide for being friendly, peaceful and tolerant
•A multicultural country providing top notch healthcare and public transportation facilities
•Providing Opportunity to work and settle after study in Canada.

Major intakes:
•September (Main); January (Secondary); May (Rare options)

Work after study:
•After completion of 2 years study students can get up to 3 years of open work visa, which allows students to stay back in Canada and work full time. If student is opting for less than 2 years study, student will get work permit up to the length of course, ie. if student studies for 1 year, student will be eligible for up to 1 year Open work Visa. After having minimum 1 year experience student can apply for PR in Canada if they are eligible according to the rules prevailing.

British Columbia (B.C.)
•Westernmost Provience, known for its natural beauty;
•Victoria the caplital of British Columbia is the 15th largest Metropolitan region of Canada;
•The largest city is Vancouver which is the third largest and most populous metropolitan area in Canada; it also one of the most preferred study destination among international students;
•Statistics of CIC, Canada as on 1st December 2011 states approx. 29600 international students entered British Columbia out of which 24500 selected Vancouver for their further studeis while approx. 66600 were present pursuing their studies in British Columbia.