Study and Work in Alberta, Canada - Ahmedabad
Wednesday, 8 August 2012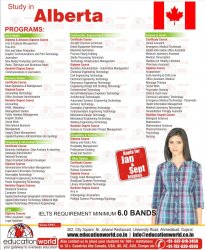 Contacts

Jahanvi Choksi
Item description

Canada
•A host country to more than 1,80,000 International students; India being the second highest provider after China
•Excellent Education System which ranks among the Best in the world; providing Internationally recognized degrees
•Spending more per capita on its education system than any other country in the OECD (Organization of Economic Cooperation and Development)


Major intakes:
•September (Main); January (Secondary); May (Rare options)

Work after study:
•After completion of 2 years study students can get up to 3 years of open work visa, which allows students to stay back in Canada and work full time. If student is opting for less than 2 years study, student will get work permit up to the length of course, ie. if student studies for 1 year, student will be eligible for up to 1 year Open work Visa. After having minimum 1 year experience student can apply for PR in Canada if they are eligible according to the rules prevailing.

Alberta
•One of the land locked provience of Canada along with Saskatchewan;
•Edmonton is the capital of Alberta; Calgary is the largest city of Alberta;
•Alberta's economy is one of the strongest in Canada;
•The largest producer of conventional Crude Oil, synthetic crude, natural gas and gas products in the country.
•2nd largest exporter of natural gas and the 4th largest producer in the world;
•Statistics of CIC, Canada as on 1st December 2011 states approx. 4900 international students entered Alberta while approx. 16600 were present pursuing their studies in Alberta.