Net Development Company in Ahmedabad - Ahmedabad
Tuesday, 12 September 2017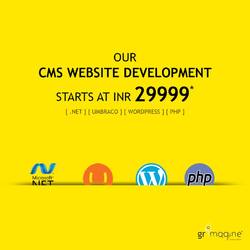 Contacts

Pritesh Patel

079 40 054 643
Item description
GR Imagine is a leading .Net Development Ahmedabad based Company . We have a team of expert ASP.Net Programmers that offer expert ASP.Net consulting along with ASP.Net Application Development, asp.net programming and much more.
ASP.NET is a web application & development technology commercialized by Microsoft that programmers can use to build dynamic websites, web applications & web services. ASP.Net benefits over other scripts – based – technologies (including Classic ASP) by compiling the server side code to one or more DLL files on web server.
Some Reasons Why Asp.Net Development Is Essential
• Asp.net development leads to a reduction of code amounts that are often needed in creating large applications.
• Easy maintenance of pages is made possible.
• Asp.net development aids in language independence.
• Applications become safe and stay secured because of configurations made for each application and the built in Windows authentication.
We are constant in achieving high customer satisfaction because of our friendly team of experts who are more than willing to accommodate the requests of our clients.
Fresh ideas combined with groundbreaking solutions will attract and retain your customers so your business will be propelled forward when you avail of our Asp.net development services.