Software Testing Training in Ahmedabad/Baroda at Unicode Technologies Pvt. Ltd. - Ahmedabad
Friday, 16 February 2018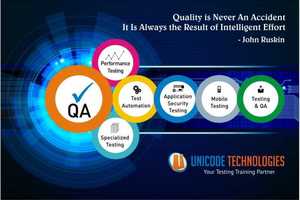 Contacts

unicode

9825726467
Item description
Unicode Technologies is a renowned organization into offering Software Testing services across the continent. We have been providing a training on Software Testing with good testing and test automation skills experience.
Software systems are becoming more challenging now a days. Software, Website has become an important role in our lives both economically and socially, so it is very important to focus on quality product.Any software or website should possess quality attributes such as Efficiency, User Friendly, Correctness, Maintainability and portability.
Software testing is a process of executing an application with the intent of finding an error. The goal of tester is to find out as many bugs from the application and make sure they get fixed or not. Program testing can be a very effective way to show the presence of bugs, but it is hopelessly inadequate for showing their absence written by Dijkstra, 1972. Testing activities should be integrated throughout the software development life cycle. Testing of a phase must be build upon and checked against the results of the previous phase.
We provide software testing training in ahmedabad and baroda mainly designed software testing course for freshers and those who wants to enter into this field. This training would give them in depth knowledge on various testing concepts and new technique and it would also helpful to do the best in a real time company project.
Visit our website www.unicodetechnologies.in for more information.
Phone: (079-65441555), 9376202010(IVRS), 9825726467(M
Office Address:
Satellite:
C-506, Titanium City Centre, Next to Sachin Tower Petrol Pump, Satellite, Ahmedabad.
Baroda:
S/17 D, Indiabulls Mega Mall, Jetalpur Road, Vadodara.