Panasonic econ Inverter - CS-K24NKY Tropical Air Conditioners - System Designing - Ahmedabad
Tuesday, 11 June 2013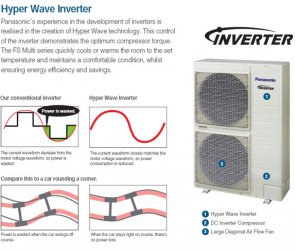 Contacts

tejas shah

9825024651
Item description
Panasonic Air Conditioners
Ideas For life
SYSTEM DESIGNING
102 Aagam Complex
Nr. Vasna Tel. exchange
Pratapkunj
Ahmedabad india
Tfax.:- 91 79 26631673
Mobile 9825024651
E-mail :- sdesign_trs@yahoo.com

CS-K24NKY
Capacity : 2.0 ton, 7.03kW
oECONAVI - Mono Sensor
oAUTOCOMFORT - Mono Sensor
oInnverter 55
o55°C Ambient Cooling


•Features
•Specifications

Inverter 55
Inverter Control in the desert climate is now possible thanks to unique and innovative technologies.
ECONAVI - mono sensor
With the ECONAVI Mono Sensor, the air conditioner can detect wasted energy and automatically selects optimum energy-saving operation based on two factors - Low Activity Detection and Absence Detection. ECONAVI Mono Sensor gives you energy-savings up to 20%*.
AUTOCOMFORT - mono sensor
AUTOMCOMFORT Mono Sensor is used to provide comfort. High Activity Detection when the level of activity increases, and automatically increases cooling power by an amount equivalent to decreasing the set temperature by 1 degree Celsius to improve comfort.
55°C Ambient Cooling
Cooling is possible even when the outside temperature is 55°C. Featuring a highly durable compressor and fan motor to maintain room comfort even under the hottest conditions.
Blue Fin Condenser - Lasts 3 times Longer
An Air Conditioner&s performance depends largely on its condenser, which can take a beating from exposure to salty air, wind, dust and other corrosive factors. Panasonic has found a way to triple the life of our condensers, using a layer of our original anti-rust coating. This special coating lets you enjoy more years of reliable comfort plus extra economy over the long run.