iPhone Development - Ahmedabad
Wednesday, 22 May 2013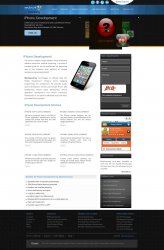 Contacts

rolfjwill

9638444580
Item description
iPhone Development – Mindinventory 15$/Hr

The solution bridges the gap between clinical anesthesia, reference books and practical functioning. It provides a complete guide to iphone application development by assembling easy to use interactive tools, performs all complex calculations and providing instant

Mindinventory Software Solutions an offshore software development company serves designing, programming and envelopment. It also enterprises itself in providing quality iphone application development services to its clients at affordable costs and with a guarantee of customer.
Offering Service for iPhone Development
•iPhone Apps Development
•iPhone Games Development
•iPhone Web Development
•iPhone Theme/icon Development
Benefits of iPhone Development by Mindinventory:
•Specialized team of experienced developers.
•100% iPhone Market approval guarantee.
•Excellent user interface designing.
•Source code security and rights.
•Long term relationship.
•Excellent Support and Maintenance.
•Developing iPhone applications at unbelievable price.
•Client centric approach.
•Constant support from us 24*7.