Explore the Majestic: Statue of Unity Tour Package by Jimi Travels! - Ahmedabad
Monday, 20 November 2023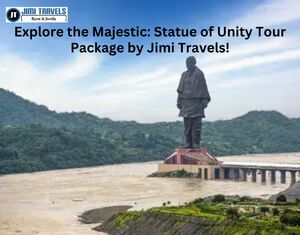 Contacts

Jimi Travels

+91-98250-75797
Item description
Embark on an unforgettable journey with Jimi Travels and witness the awe-inspiring Statue of Unity, a symbol of unity, strength, and visionary leadership!

Package Highlights:
•Guided tour to the Statue of Unity
•Insightful visit to the Sardar Sarovar Dam
•Informative museum experience
•Multimedia show at the Statue of Unity complex
•Comfortable transportation and expert guides

Tour Dates: Flexible scheduling available
Visit Duration: Full-day excursion
Accommodation: Optional packages available

Book Now and Enjoy:
•Exclusive access to key attractions
•Hassle-free travel arrangements
•Unmatched customer service

Contact Jimi Travels:
Visit us at B-804, Gala Haven, Opp. Balaji Wind Park, Vaishnodevi Circle, S. G. Highway, Ahmedabad-382481
Call us at +91-98250-75797
Email us at booking@carhireinahmedabad.co.in
Explore more at httpswww.carhireinahmedabad.co.in/statue-of-unity-tour-from-ahmedabad/

Don't miss out on this extraordinary opportunity to witness the world's tallest statue! Book your Statue of Unity Tour Package with Jimi Travels today!