Ahmedabad Darshan Made Easy: Jimi Travels Tempo Travellers at Your Service! - Ahmedabad
Saturday, 18 November 2023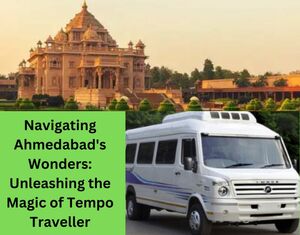 Contacts

Jimi Travels

+91-98250-75797
Item description
Unveil the beauty of Ahmedabad with our premium Tempo Traveller rental services at Jimi Travels! Experience the city's rich heritage, vibrant culture, and modern marvels in the comfort of our well-maintained tempo travellers.

Why Choose Jimi Travels for Ahmedabad Darshan?
•Spacious and Comfortable
•Flexible Itineraries
•Professional Drivers
•Affordable Packages

Contact Jimi Travels Today!
For a seamless Ahmedabad darshan experience, trust Jimi Travels. Call us now to book your tempo traveller and embark on a journey through the heart of Ahmedabad with comfort and convenience!
•Call Now: +91-98250-75797
•Website: httpswww.carhireinahmedabad.co.in/ahmedabad-darshan-tour/

Jimi Travels - Your Gateway to Ahmedabad's Delights!