The Types of EOT Cranes and Their Uses - Ahmedabad
Thursday, 17 July 2014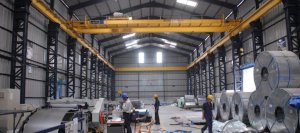 Contacts

Ambica Engineering

+91-79-25890731
Item description
The recent developments in the area of high tech machinery have made it convenient for operators and engineers who are associated with industrial sectors. Different construction sites and factories make use of cranes and heavy machines that help them to move large objects without any difficulty. While deciding on what crane models to purchase, most industrial firms opt for EOT cranes due to their high potential. EOT cranes or Electric Overhead Traveling cranes make use of gantry rails that are placed on gantry girders, which are then supported by columns on either sides of the bay. They also come with bridge girders, end carriages, platforms, trolley assemble as well as long travel machineries.
EOT cranes come in a variety of types. The two most popularly used ones are the single girder EOT cranes and the double girder EOT cranes. A single girder EOT craneis generally used in warehouses or factories that are involved in small scale productions. Factories having shortage of space also use them as they can conveniently fit into smaller areas. On the other hand, a double girder EOT crane comes with a greater load carrying capacity compared to their single counterparts. They are usually suited for larger spaces and come with various fixing arrangements.
Ambica Engineering Co. is a leading manufacturer and supplier of EOT Crane India. They can provide their clients with customized solutions for all their material handling necessities. The experts at Ambica Engineering Co. design high end heavy weight and light weight cranes that meet the global standards of industry requirements.